As the world fights the COVID 19 pandemic, everything has changed. People across the globe are staying home and practising social distancing to slow and stop the spread of the infection. Under these circumstances, family entertainment activities this summer may come to a standstill, but that need not be the case.
This summer, families have run out of ideas for fun activities as the spike of coronavirus cases across the country limits the traditional summer options.
With so much to do when kids are home, parents, who are already busy managing work-from-home, have one more task on their lists – create a fresh,
We are here to help working parents plan their summer with some fun activities that can make it as adventurous as the last year.
Outdoor Activities
Spending time outdoors with the family doesn't just bring change but also improves the physical and mental health of the kids.
You need not take any risks going far, the backyard will do the job. Here are some great ideas.
Field Day
Everybody is going to love a field day. Get a field day kit or make it yourself. Get some sacks or pillowcases for the sack race.
You can use a spoon and egg to play the spoon race. Have fun with the three-legged race using a ribbon to tie the legs together. Choose your favourite races and you are good to have a fun day outdoors.
International Picnic
Make your backyard visit an international picnic by trying new themes from around the globe. Make food and snacks for different countries and enjoy virtual tours sitting in your own yard.
You can play Mexican music and eat guacamole, salsa and taco for the Mexican themed picnic.
Plant A Garden
An amazing way to teach the kids where the food we eat comes from, this activity is sure to become a hit this summer.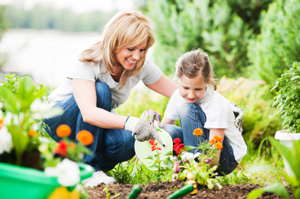 It not only helps get the family outdoors but gives you tons of chances to execute some science lessons to learn from.
Camping
Try spending a night in the backyard to stimulate the much loved summer activity.
Set a campfire, play games, have a barbeque and enjoy some music.
Even if the kids are younger, set up tents and give them a feel of real camping.
Water Park
Nothing can beat a water park for summer fun. Just get some accessories and your backyard will transform into a beautiful mini-park. Use some soap and lots of music and ensure a fun afternoon for your family.
Scavenger Hunt
Plan and execute a themed scavenger hunt. This game is a great way to encourage problem-solving while enjoying some fun time with family.
You can use your creativity to find endless options with this activity.
Indoor Activities
While enjoying the summertime outdoors is really fun, it is good to have some indoor activities as well. These creative ideas are so fun that you may forget you are stuck at home.
DIY Tie-Dye
One of the newest stay-at-home trends this year, DIY tie-dye is fun for all ages. It is a great summer activity you can do with kids to let them express their creativity. There are lots of options for colors and designs and a ready-made kit can make things simpler.
Theater
The reason this idea works for families with kids is that there are numerous options available. For little grown-up kids, working individually on their scripts works. Everybody can gather at the lunch table and share what they have come up with.

If your child likes music, you can ask him to write a song. You can even ask them to watch a musical and write its ending. A theatre is a great option for half or full-day activity indoors.
Science
There is so much to do with science! Let the kids do science experiments and learn something new while enjoying their time. They can pick their own projects based on their interests.
Competition
All love competing and chores are the best during this pandemic. It is a great way to make the day interesting while taking care of everyday tasks.
You can even include chores into a scavenger hunt that lasts all day. Give a prize to the winner and participants are sure to stay excited.
Art Projects
You can find a huge variety of art projects for kids and adults on YouTube. Let the kids watch videos and pick a project they can do. Make sure you have enough art supplies available to keep it going.
Use a sheet or tablecloth as the draping for the surface used for the projects to keep the mess away. Another way to ensure safety is dedicating an area in the house for the art projects.
Family Nights
Summer nights should be made exciting with some fun activities, particularly the weekends in this pandemic. Here are some great ideas that would turn the night into memory.
Movie Nights
Show the family's favourite movie in the backyard using a screen and projector. Everybody can write their favourite movie on a piece of paper and a new selection is drawn every week.
Game Nights
You might be playing board games every night and this may seem a no-brainer. But you can always keep it fresh by introducing a new game.
You can also play some of your favourite games from childhood. Introducing those games to your kids not only refreshes memories but also broadens their options.
Dance Party
Dancing with the family will help you all get active and eliminate stress. Dance parties are great for those boring summer days that need some amp. You can even record the best moves and post them on social media.
We hope these ideas help you make your summer entertaining in these hard times and keep the kids busy and happy until everything gets back normal again.